Soprano Ukulele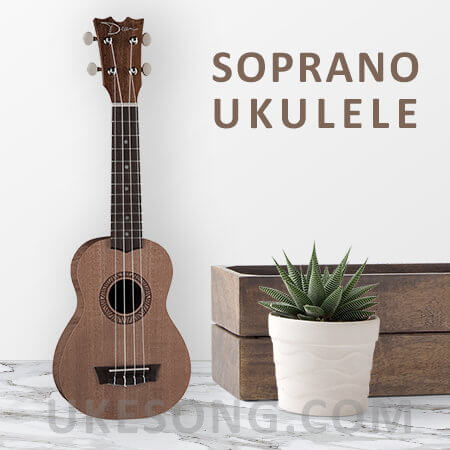 As you may well know, there are four different 'main'  ukulele sizes on the market. The most common of these is the soprano ukulele.
The soprano ukulele is the smallest of the four different sizes of the ukulele. It is also the first type of ukulele that was ever produced. While larger ukuleles have been produced over the years, the soprano still remains immensely popular. In fact, this is likely going to be the first ukulele that you ever pick up.

Soprano ukulele – Playability
Many people may find the small size of the ukulele to be a bit of a hindrance. This is because it has a smaller scale. Just 13", in fact. This means that the frets are much closer together. If you have larger fingers, then this can cause issues. However, if you do have smaller fingers then you may find that playing your favorite tunes will be a lot easier as everything is going to be so much closer together. If you have larger fingers, then opt for a tenor or concert ukulele instead. It is going to make your playing experience that much better. 
The fact that these instruments are small means that they are fantastic as a travel ukulele. After all, not everybody wants to be dragging around a full-size concert ukulele.
You may just want to whip something out on occasion and have a bit of a strum. They are good for that.
The soprano usually follows standard ukulele tuning which is:  G C E A.  Keep in mind that the top G string is actually higher than the C string below it.   Use our online ukulele tuner below, to tune your ukulele. Tap the play symbol and tune the string to the tone.
Tone
Because these ukuleles are smaller in size, they will be cranking out a quieter and more subtle sound. However, many people like this. If you are looking for a sound which offers less bass, then this is the route to go down. I know that the tone of the soprano ukulele is not going to be to everybody's liking, but I still suggest that you give it a go as it may be something that you end up falling in love with!
Price
This is the main reason as to why people pick up the soprano ukulele. They are the most affordable instruments on the market. In fact, you can get something that sounds decent for not a whole lot of money too. They are ideal if you just wish to check out the ukulele to see if it is for you or, perhaps, you are a regular guitar player and you want to add something new to your repertoire without dedicating yourself to the instrument fully.
Top rated Soprano ukuleles
(Visited 1089 times, 59 visits today)