Best Ukulele Picks in 2022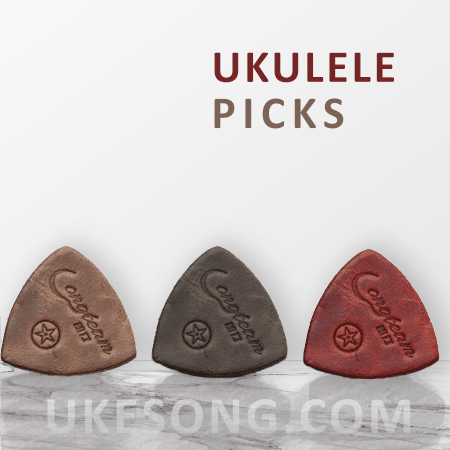 There are no rules to play the ukulele. Except… maybe for this one: never use a pick ;). Of course, every rule has its exception. But before we tell you the right reasons to use a ukulele pick, and what are the best ukulele picks and ukulele fingerpicks,  let us give you three very good reasons to avoid them.
Disadvantages
1. It sounds like a guitar: Playing with a hard pick makes your ukulele sound less like an actual uke and more like a guitar (a very small and cheap one). If that's what you want, why don't you just play the guitar?
2. You can't strum and tap at the same time: With a ukulele pick, you lose many possibilities of strumming that the ukulele has. There is a whole world of types of strumming that simply will not be within your reach if you have a plectrum (or pick) pinged between your fingers.
3. It could ruin your ukulele: Normal strumming causes wear on the top cover of any ukulele, but the picks will eat the top of your instrument faster than a mouse could eat a cookie.
Advantages
Ok, now that everything is clear, we'll tell you a couple of reasons why you might want to use a ukulele pick:
1. The plucking: Rigid picks produce a shrill sound when you strum them, but many ukulele performers use special picks added to their fingers for a greater effect. Because these picks are designed to be used with the guitar (especially those of the thumb) some ukulele players cut them out so they don't damage the ukulele cover.
2. To create effects: A felt pick can produce a nice sweet tone, particularly in tenor ukuleles and baritones. Do you want to break the corduroy? Then you must choose a rigid plectrum and get the sound that speaks for you. But do not think that the barb serves to gain speed.
How to choose ukulele picks?
Always avoid the normal guitar picks as they are designed for metal strings. The classic ukulele pick is the felt pick, available in a multitude of shapes such as oval or triangular, different sizes, thicknesses, and hardness grades. The softer it is, the sweeter the sound it will generate. There are even polifieltro tines with a rigid core that provides a powerful attack without that characteristic "click" of the plastic.
Along with felt, leather is a classic material for making ukulele picks and has been used for over one hundred years. A modern version of these is the "Wedgie" rubber picks. They are sold with a multitude of thicknesses and degrees of hardness, in addition to having a molded grip, making them suitable for adults and children.
Which one is the best and where to get a ukulele pick?
Actually, there is no rule when it comes to this. Choose the one that works the best for you.  The best thing you can do is go to your favorite music store, where you can see and try many options. We recommend these brands anyway:
WHAT UKULELE ACCESSORIES DO I NEED?