The 10 Best Studio Headphones in 2022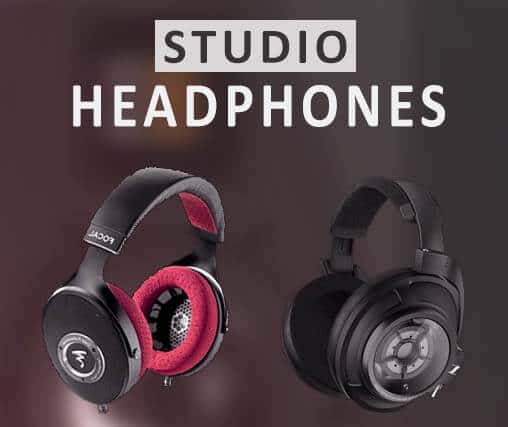 The 10 Best Studio Headphones in 2022
Are you seeking out the best studio headphones? Are you going to use them for listening, sound monitoring or mixing? Well, as you already know, studio headphones are divided into three main types, open-backed, closed backed, and Semi-open backed headphones.  A poor quality headphone can damage your hearing or can potentially lead to problematic stereo field choices or wrong mixing decisions. Therefore, investing in the best headphones you can afford early is a smart investment. 
Of course, for your studio setup, you will also need a computer, DAW, an audio interface, microphones, studio monitors, MIDI controllers, etc. But If you want to find the perfect pair of top studio headphones, the list below will take you through some of the best models from Shure, AKG, Sennheiser, Focal, Audio Technica, Beyerdynamic, and more, available today. 
What are the best studio headphones right now?
The top 7  Studio Headphones  below $500
Sennheiser HD280PRO  is a closed-back headphone designed for pro monitoring applications. With reasonably flat frequency response and high sensitivity, it is suitable for a wide variety of listening tasks. The bass is clear and accurate and lacks aggressive thump. The mids are very clear and detailed. The highs are shine and suitable for monitoring.  These are great headphones, comfortable and neutral they sound great with an amp and they're very good for the price.
 Pros
durable
clean and accurate audio performance across the full frequency range
comfortable, secure fit for long listening sessions
passively reduces ambient noise significantly
Cons
the cable is not detachable
Summary
Sennheiser HD280PRO are affordable recording/mastering-grade headphones, more appropriate for studio use than personal listening. If you like "colored" headphones, these are not your thing. 
Focal Listen Pro are honest, direct, and have a very pleasing soundstage with no unwanted frequencies bouncing around. They have transparent reproduction across the entire spectrum, with great low end. The lower mids and bass are both tight and rich. They put your music in front of you, which a valuable addition to any control room. 
Pros
solid sound reproduction even at low volumes

light and comfortable

excellent noise isolation

closed-back design and large ear cushions
Cons
Summary
Focal Listen Pro is an almost perfect choice of headphones. They are ideal for both listening and pro tasks. Therefore, we can put them in the all-rounder category.
The Audio-Technica ATH-M50x offers a very detailed and balanced sound with tight bass and excellent build quality. Vocals and instruments have a pleasant texture and are nicely separated on a well-organized soundstage. The low end is a bit more, but the midrange is well defined and integrates well with the treble.
Pros
lively and engaging sound

portable over-ear headphones 

cable with a twist-and-lock mechanism to prevent accidental ejection

earcups swivel 180 degrees
Cons
Summary
The Audio-Technica ATH-M50x are in the list of the best studio headphones for music production as these are among the best-sounding pairs, you'll find for less than $180. They're fantastic for studio use, comfortable and durable for these extra-long studio sessions. Plus, they're affordable enough that you can probably afford multiple pairs for your studio.
Beyerdynamic DT 770 Pro headphones are a bit pricey side, but they offer a next-level listening experience, which makes them one of the best studio headphones. They provide professional-quality sound for critical listening applications and sound monitoring in an open environment. DT 770 Pro are recognizable staples of recording studio gear over the last few decades and are still relevant thanks to their excellent audio performance.
 Pros
innovative bass-reflex system

good neutral listening headphones

superior build quality

well balanced audio reproduction

near-perfect mid-range

stable and well-padded

Cons
some people find them to be a bit overly sharp
Summary
Beyerdynamic DT 770 Pro are well-built, great-sounding and durable closed-back headphones. They offer a clear, engaging, and rich listening experience.  Vocals and instruments sound natural and warm. The headphones are a good blend of price and performance.
AKG Pro Audio K702 are open, over-ear studio headphones with a neutral signature, great for listening, mixing, and mastering. They are linear and do not emphasize any frequency. Mid-range doesn't get mixed up with mid-bass and retains the sound clarity, it is vibrant and transparent which holds great significance during track mixing. The K702 is a great pair of headphones with a clear and smooth sound, comfortable fit, and phenomenal imaging. Therefore, they are in our best studio headphones list.   
Pros
frequency response 10 to 39,800Hz

precise sound reproduction

great sound performance

perfect for critical listening and studio mixing

comfortable design

detachable cable

replaceable earpads
Cons
a little too big and bulky
Summary
AKG Pro Audio K702 are ideal for mixing applications thanks to their impressive sound reproduction. The stereo image is wide with an extremely linear frequency response range. They deliver a comfortable listening experience even during long listening sessions.
Pro Grade Studio Headphones
Top 3 Studio Headphones in the $1600- $2700 price range
Wide, realistic sound staging and highly precise imaging are the biggest advantages of the Sennheiser HD 800 S. No matter the quality of the recording or the genre, all instruments are precisely placed. There is so much air and space present that listening to well-recorded music is just phenomenal and a real joy to the ears. To get the best of these headphones you should be using a dedicated high-quality audio interface or DAC+amp combo. The handmade microfiber earpads offer exceptional comfort for long listening enjoyment. Sennheiser HD 800 S definitely worth an audition.
Pros
frequency response

4 Hz – 51.000 Hz

reference class dynamic headphone

spacious, lifelike soundstage

ring  radiator transducers for incredible detail 

vibration damping chassis with luxurious padding

detachable cable

made in Germany from purpose-built materials
Cons
you'll need a good amplification and a quality soundtrack to hear what they can really do
Summary
The Sennheiser HD 800 S is airy, revealing, and detailed.  The sense of realism, depth, and space is just unmatched. HD800S is probably the last headphone you will ever need after you get one. 
The AKG Pro Audio K812 PRO are really elegant. They feel light, and the '3D' ear–cup design, makes them very comfortable. These reference headphones offer the purest and natural sound possible and allow music professionals to experience the smallest sonic details down to the imperfections of the recording. Yes, the K812 are expensive headphones, and they sound like it. Therefore, these headphones are perfect for all kinds of high-budget users who want to get a top-notch quality product that has been built to last.
Pros
frequency response: 

5 to 54.000 Hz
superior reference headphones
faithful sound
Impressive detail resolution and transparency
beautifully engineered and well-built

accurate representation of what has been recorded
Cons
they need a good amplification to shine
Summary
The AKG Pro Audio K812 PRO are designed for music professionals to experience the smallest sonic details with the most accurate balance for music production, mixing, and mastering. They are one of the best studio headphones AKG has ever released and they will help you a lot in making crucial mixing decisions.
The Focal Clear Professional deliver a mixing experience that is pretty close to a set of studio monitors. Thanks to the very low-mass driver moving parts, these headphones reproduce the tiniest details in the higher frequencies. With an impedance of 55 Ohms and 104dB sensitivity, you can use them with about any smart device or digital audio player. 
Pros
frequency response 5 Hz-28.000 Hz

professional open-back headphones

a truly accurate listening experience

remarkable tonal balance over the entire spectrum

bass articulation, down to the very lowest frequencies

incredibly comfortable for long sessions

pack of extras

work with any mobile device
Cons
the cable is well built but it is not very flexible
Summary
Focal Clear Professional are the ultimate tool for the most demanding professionals. Audition these as soon as you can hear a set of phones that perhaps deliver everything for your mixing.
End Remarks
It's unlikely that your home studios have perfect acoustics. Mixing on headphones can be useful and even necessary in many situations and headphone monitoring can be an important part of the mixing process. But just like with studio monitors, it is important that we get a pair of professional studio headphones (though they can be pricey) such as Beyerdynamic DT 770 Pro , AKG Pro Audio K702, Sennheiser HD 800 S, AKG Pro Audio K812 PRO. The best studio headphones offer excellent, full-range, detailed audio, and will help you in making crucial mixing decisions.