Best Ukulele Tuners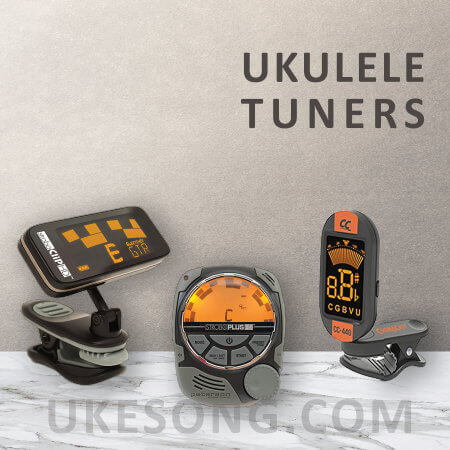 Every string instrumentalist, along with acquiring his instrument knows that he will have to tune his instrument. Developing the ability to tune a string instrument by ear could be a great advantage and may result the most economical solution.  However, developing the skill of tuning by ear at that level requires time and constant practice. While you are in the process of learning and adapting there's a more effective way to tune your instrument and that is using a tuner, it is the best way to get a more accurate tuning at the moment to study, practice or for any kind of gigs. So, check out our comparison of the best ukulele tuners below.
What is a ukulele tuner?
An electronic tuner is a small device that visually indicates the difference between an interpreted sound and the referent under the tuning criteria of A-440. Basically, it shows you the difference between the heights of each sound.  There is a wide variety of tuners in the market, and you will surely wonder which is the best for you. Is there a brand with a better product? Next, we will show you a list with different tuners and also name some brands as well, we'll review some of them so that you can have references of each product and know which one best suits your requirements.
What to look for in Ukulele tuner?
An easy-to-read bright display: Make it far simpler to keep you ukulele in tune. Especially if you are playing in dim or dark areas.
Long Battery Life:  Look for a ukulele tuner that offers long battery life. This way, you'll have to change batteries less often this way, saving money and effort in the long run. In many models, battery power affects the look of the display screen, including brightness.
Rapid Response Time:  The faster your ukulele tuner works, the better. Some tuners do not display the note (or whether the note is sharp or flat) until a few seconds after you play it. This can mean that the tuner isn't as accurate as you'd like it to be. A slower tuner might be OK if you're always playing alone, in an area with no other sounds. However, if there are other musicians or other noises in the room, your accuracy is going to suffer.
Slip-Resistant Clip-On Style:  Not all ukulele tuners are meant to attach to your instrument, but some models do clip on. If you opt for one of these, make sure it's slip-resistant. So it remains in place and prevents your instrument's finish from being scratched.
Rotating Display Screen:  An adjustable, rotating display screen makes it easier to keep your ukulele in tune. The less effort you have to expend, the faster you'll be able to make the necessary adjustments.
Final Thoughts & Tips
As most ukuleles don't come equipped with electronics to plug in to a tuner. Therefore, it is absolutely necessary the tuner you buy has a built-in microphone. See the list with the best ukulele tuners above. If you weren't able to guess from the above list, Korg makes a really great portable tuners. As you go up in price-range, Boss and Peterson make great tuners. But these tuners often don't have a built-in microphone and have only an input jack to detect the pitch of your instrument.
Finally, you can always use our online ukulele tuner  to tune your ukulele up. So, what's your method for tuning your ukulele?  Got any tips or suggestions for buying a tuner?
WHAT UKULELE ACCESSORIES DO I NEED?