The 10 Best Microphones for Recording Vocals in 2022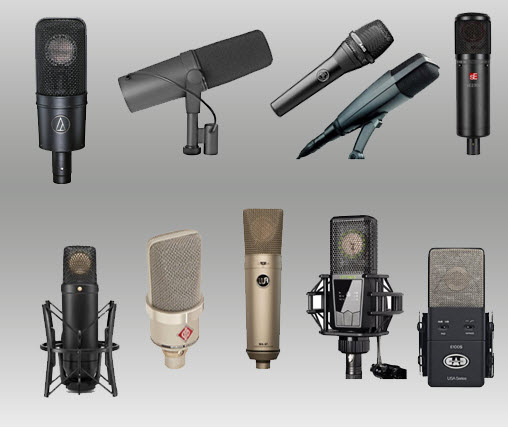 The 10 Best Microphones for
Recording Vocals in 2022
Are you seeking out the best microphones for recording vocals and instruments, or a podcast? As you know, mics are the most important studio kits.  A poor quality mic will lead to frustrating recording sessions. Therefore, investing in the best microphones you can afford early is a wise investment. From budget setups to pro studios, these 10 are the best microphones from Shure, AKG, Rode, Neumann, Audio Technica, and more.
Which are the 10 best microphones for recording vocals in 2022?
Shure SM7B  is a legendary high-end dynamic microphone tailored for vocals. It has a smooth, wide-range,  frequency response appropriate for music and speech. It features a cardioid polar pattern, bass roll-off, and mid-range emphasis controls, and shielding against broadband interferences. It enhances the midrange and high frequencies that are associated with the human voice. An internal air suspension shock isolation eliminates mechanical noise transmission. Shure SM7B has a very rich, yet neutral and natural-sounding low-end. 
 Pros
Frequency range: 50Hz – 20kHz

Improved rejection of electromagnetic hum

Air Suspension Shock Isolation

Cardioid polar pattern

Bass roll-off and mid-range emphasis

Internal "air suspension" shock isolation

Flat, wide-range frequency response 

Pop filter

a yoke mount provides precise control of the mic position.
Cons
Low signal levels – you might have to turn up the gain on your audio interface/preamp 
Summary
The Shure SM7B is a fantastic microphone. It is extremely versatile is a best-seller for Shure, and accumulated many fantastic customer reviews. You won't hear any distortion or boominess of a typical consumer-grade mic; it is just deep, clean, and balanced bass. Overall, the SM7B is suitable for nearly everyone, as it's pricing is very affordable.
The AKG C636  has a custom-tuned, 24-carat gold-plated 3/4-inch back electret condenser capsule. It is able to handle 150dB SPL, and it is designed to minimize the three most annoying problems with handheld live vocals mics: feedback, handling noise, and pop noise. The C636 stops feedback with its uniform cardioid polar pattern. It has a specially-designed suspension and grille that minimizes unwanted sound reflections coming into the back of the capsule. To fight with handling noise, the C636 capsule sits on an absorbent rubber bearing that decouples it from the mic's zinc alloy body. There is also a substantial brass layer below the capsule that serves as a counterweight to increase stability.
Pros
Frequency bandwidth: 20 – 20000 Hz

Clear, well-balanced response
Excellent off-axis attenuation
Superb feedback rejection

Uniform cardioid pattern eliminates feedback

Double shock suspension system

Multi-layer pop noise protection eliminates plosives

Studio-quality unfiltered and uncompressed sound
Cons
A bit pricey, but the quality justifies spending a little more
Summary
The C636 has impressive solutions to the multi-faceted problems of live vocal capture.  The off-axis rejection is impressive and uniform.  This explains the excellent feedback rejection. This is a great microphone for live studio sessions. The sound is rich and clear, far more linear and real than its dynamic mic counterparts. The high-frequency range is present and well defined offering the pure studio sound you've grown to love.
Rode Nt1  has a clean design finished in a very dark grey. The machined aluminum body is nickel-plated for resistance against corrosion. It is coated in a military-grade ceramic layer that makes the finish resistant to scratches or marks.  The NT1 vocal sound is crisp and detailed with plenty of warm low-end body, rich midrange, and an airy clarity in the top end. This mic, in particular, is pretty popular among those with home and project studios. It is a great vocal mic, but you actually record acoustic guitars quite well.
 Pros
Frequency range: 20hz – 20khz

An incredible dynamic range
Excellent Sound Quality
Superb shock mount and filter included
Very low noise
Value at a low cost


Cons
A bit heavy
Needs a good preamp/audio interface
Summary
RODE NT1 is a classic studio microphone. This high-quality mic is well suited to a wide range of recording tasks and this is your opportunity to grab a top-class microphone for a reasonably low price.
The CAD Audio Equitek E100S  is large Diaphragm Supercardioid Condenser Microphone. Engineered and built in the USA, the E100S has the lowest noise floor in its class (3.7 dBA) and the smooth, vintage tone and robust low-end CAD is known for. The nickel-plated 1 inch capsule delivers accurate phasing on instruments, and a full rich vocal tone, accentuated by the extended low-frequency response.  
Pros
Integrated and very effective shock mount
Gentle HF roll‑off provides smooth but detailed sound.
Supercardioid pattern is useful for minimizing spill.
Cons
The grille is not the most efficient plosive stopper 
Summary
With  CAD Audio Equitek E100S  you can record from vocals to percussion, acoustic instruments, and everything in between. The CAD Equitek E100S will prove to be one you most versatile tools in the studio or on stage. 
The  LEWITT LCT 540 SUBZERO captures every nuance of your performance. It is a condenser microphone with a large-diaphragm with self-noise values below the threshold of human hearing. It has detailed highs balanced by solid mid-range and supportive lows and it is a good fit for a wide range of vocal styles, with many secondary applications in instrument recording and is capable of taking on a wide range of recording tasks.  
Pros
Large diaphragm condenser microphone for studio vocals and instruments

Well-balanced, natural sound

Cutting-edge circuitry for ultra-detailed sonic images

Extremely low self-noise paired with high sensitivity

Clipping indicator, low-cut (lin, 80 Hz, 160 Hz), and pre-attenuation (0 dB, -6 dB, -12 dB)

Includes shock mount, magnetic pop filter, windshield, military-grade protective case,
Cons
Too sensitive. Might pick up noise but 

It's great in a quiet, controlled environment. 
Summary
The LEWITT LCT 540 SUBZERO  is less costly than many mics it outperforms and works great on both technical and artistic levels. It is with a lower price tag than expected from its performance.  With this mic, you will definitely rediscover your voice and instruments on a new level of musical details. 
The sE Electronics SE2300 is known for its bright sound and solid lows. Overall, it is a well-balanced microphone and works well on both vocal close mic for acoustic guitar and percussions. Compared to the competition in this price range, the SE2300 sounds smoother and more expensive. There is a slight bump at 10kHz which adds a nice airiness to vocals and helps them cut through the mix. This mic has cardioid, omnidirectional and figure-8 patterns. This is extremely useful for recording vocals and vocalists that like to move around. In other words, switching to omnidirectional will give quite a different tone and reduce fluctuations from movement.
Pros
Offers the same essential character as the original SE2200A, but with multi-pattern capability.
Neat shock mount that incorporates a pop-screen holder.
Cons
As with any vocal mic, you need to make sure it suits the voice you will to use it with.
Summary
If you have a limited budget and can only afford one condenser microphone, the sE Electronics SE2300 a highly recommended option. 
The The Warm Audio WA-87 is a Vintage-Style Condenser Microphone. The classic '87 is one of the most widely-used large diaphragm condenser microphone in pop recording history. The desire to re-introduce the warm tone of this classic mic at an affordable price to an all-new generation of recording artists was the inspiration behind the WA-87.  As you know,  finding a truly great microphone within a budget has always been a challenge as top shelf, classic studio microphones have simply been out of reach for most people but the Warm Audio WA-87 , yet sells for a price that is down to earth.
Pros
Frequency response: 20Hz to 20kHz Max SPL

The warm tone at an affordable price
All-round studio microphone with a sound character that recalls a brighter U87.
Comes with a nice box and a comprehensive selection of accessories.
Great for

 people vintage music lovers or for those who want a timeless yet high-quality sound
Cons
Summary
The Warm Audio WA-87 is claimed to offer the sound of an original Neumann U87 at a fraction of the price. If you are comparing the relative costs of the WA‑87 and the U87, one factor that needs to be taken into account is the supplied accessories. Warm Audio's version includes a very nice wooden box, plus equivalents of the Neumann EA87 shock mount and SG287 swivel mount too. Most of the U87s you see on the second-hand market don't come with the Neumann originals, which are extremally pricey to buy separately.
The Audio-Technica AT4040  is solid and durable. It is attractive and simple looking enough. Overall, this is actually the mic. It delivers sonic harsh crispy detail on vocals and goes low deep on the bass without going to muddy. You may use it for guitars or drums with an overhead placement too for a mind-blowing experience. Comparing to a number of similar large-diaphragm mics on the market, the AT4040 is not demanding and can actually work for almost every typical scenario.
Pros
Biased condenser capsule
Good transient response
Detailed and warm sound
Supplied with shock mount
Amazing sound quality
Can hold a big amount of sound pressure
Cons
Might emphasise some mechanical noises
Summary
The Audio-Technica AT4040  is a microphone with low noise, a wide dynamic range, and healthy output. This large-diaphragm microphone sounds very detailed, smooth, and compares very favorably with its competition. Therefore we listed it as one of the best microphones for recording vocals.
 End Remarks
Now that you're familiar with the 10 best microphones for recording vocals and if the 500-900 dollar range is a bit too much for you, but you still want a high-end mic with a warm sound, don`t hesitate and grab  Audio-Technica AT4040 or sE Electronics SE2300. Both mics are designed to highlight the frequencies of the human voice and will ensure your voice is heard.