Taimane Gardner
Composer, Musican, Virtuoso
Flying High In The Sky: Taimane Gardner
Starting her journey at the delicate age of five, Taimane Gardner got into the magical world of ukulele and began her career. She's a brilliant virtuoso ukulele player and composer. She used to play on the streets of Waikiki with boys from the beach and fortunately was discovered, obviously because of her talent by none other than Don Ho – American traditional pop musician, singer, and entertainer, and was certainly featured on his show.
This show introduced her to the world of fame and grew her popularity overnight. She reached for the sky and start performing all around the world. It is well known to everyone that she performed private concerts for Steven Seagal, John Travolta, George Clooney and also opened for Chicago, Jimmy Buffett, Chris Isaak for some names to be said.
"I'm a proud artist who plays Kamaka. The sound that comes out of their ukuleles are magical and whenever I go into the factory, I am always treated like family. I've been playing their ukes since the age of five and will continue to do so because their Aloha and high-quality instruments are always supporting me to go further."
–Taimane Gardner
When It All Began
It started with our precious gem playing her rock role. Her father gave her an electric guitar when she was barely of age 5. Her Hawaiian instructor Roy Sakuma helped her to focus and have patience and confidence which now helps her. Gardner participated in contests from the age of 14.
Her love for ukuleles was also developed because of the family business, Kamaka. The business was to handicraft ukuleles from the past century. She confessed she was biased towards Kamakas.
Her skills were sharpened while performing with Don Ho and at Waikiki luau shows. She was known as ukulele artists who was shining bright and seemed to have a great future ahead of her. However, Gardner wasn't satisfied with her work and the way her career was growing. Therefore, she thought she needed to rethink of her musical options and was very unsure of what path to follow. "I was in college and getting tired of playing the same surf medleys. It was burning me out because there wasn't any room for creativity," said she.
Luckily she discovered some new paths thanks to her unique ability to transform genres. She morphs classical music with rock and flamenco.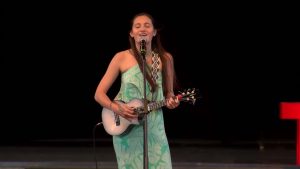 Taimane Gardner
is a growing artist who is definitely going to be one of the top ukulele artists in coming future.
Videos