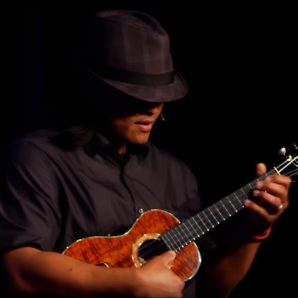 Derick Sebastian
Derick Sebastian is one of the most popular ukulele players in the world.
He grew up in Hawaii. Unlike many of the other top ukulele players, he never really had anybody around him who was musically-inclined. While he claims that he was fairly happy growing up, his life changed in 1985 when his father was killed at work. While, obviously, this whole thing was incredibly sad for a boy who had barely hit 3-years-old, it did set him on the path towards learning the ukulele, although it was a very long path.
It all began after he started school. He did not jump into the ukulele right away. In fact, we doubt he even knew what the ukulele was at that point. As you have guessed, he was still distraught over his father's death. He needed some way in which to escape from the pain. A hobby. He opted to go down the same route that his brother did and play baseball. By all accounts, for a kid he was very good at the sport and made massive strides over the two seasons that he played. He was keen to play the third season, but his asthma got the better of him and he had to drop out. He lost the only way (so far) that he was able to deal with the pain that he had in his life.
By the time he hit 6th grade, things were not looking up for Sebastian. That is until he found the head of security at his school, Sam Ellis, playing a ukulele on a school bench. This was the first time that Sebastian had evert seen the instrument and he was enthralled. From that point on, ever recess at his school, he would go find Mr. Ellis and would watch him play. This man taught Sebastian everything that he needed to know about the ukulele. The problem is that while he was learning the instrument at school, he did not have his own one. Then things changed.
His older brother one day came home from a high school musical class. His brother has been assigned the ukulele as an instrument. Sebastian was allowed to play on it whenever he wished. It was at this point that he decided that the ukulele was the right instrument for him.
Hawaiian Ukulele Virtuoso Derick Sebastian
Over the years, Derick Sebastian constantly improved on the instrument, while trying to balance athletics throughout his High School career. He was talking to Mr. Ellis throughout the time. With the help of Mr. Ellis, he won a statewide competition. Shortly afterwards, the two of them signed a recording contract for the song that they had performed.
As with many of the performers that originated in Hawaii (Israel IZ being one of the biggest of them), the songs that Sebastian produces have a very traditional Hawaiian tone to them, although he has mixed up the sounds over the years to create something epic. He has not achieved much fame outside of the US at the moment, but he has been going from strength to strength, so we reckon it is only a short amount of time.
Videos